Winter Sports with Friends
2/19/2012 – Brad and Jessica, our next door neighbors, were kind enough to take us snowshoeing with them this past weekend.  Karen had not been before and I had not gone in quite some time.  So, we took advantage of the hiking expertise of our neighbors and drove to Carson Pass for a little day hike through the snow to Lake Winamuca.
The weather was warm and for the most part calm.  It was only after we reached our lunch destination that there was quite a wind blowing.  However, Brad and Jessica, having done this before, were well prepared and scouted out a reasonably sheltered spot for a hot lunch.
We successfully blazed some of our own trail on the way back and had fun slip sliding down small hills.  Brad and Jessica certainly know how to have a good time.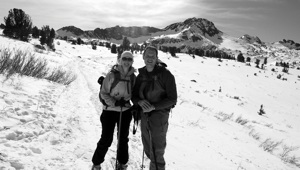 2/26/2012 – Beth and Colin flew in from Colorado to ski with some college friends and included us in the fun.  They were able to meet the kittens, see the house, and ski Kirkwood, Heavenly and Northstar.  The snow conditions were terrible, but when you're with friends it really doesn't matter.
Beth's birthday happened to fall on that Saturday.  She doesn't like people singing her Happy Birthday.  So, of course, we had to sing it all the time.
Colin was the speed-demon of the weekend, breaking 60 MPH at Northstar on Sunday.  The conditions were excellent for speed but not much else.  Well groomed slopes with nothing but hard-pack snow and ice.