James E. Mizell II, a.k.a. Dad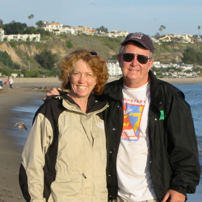 James Elsworth Mizell II
Birthday: February 26, 1948
Died: January 14, 2005
Jim passed away from a heart attack while jogging early in the morning of the 14th. While his health was relatively good at the time of his death, indiscretions earlier in life such as his smoking as a teenager and some weight put on and then lost early in the new century managed to claim his life.
A devoted family man, Jim worked tirelessly to teach hard work and honesty to his sons and to practice these beliefs in his job and community. He left behind his beloved wife and four sons.
Undoubtedly his community has felt his absence and his colleagues have missed his wit, courage, and determination to push for a better world.
As his eldest son, what I miss and recall most about my father is that he was grateful for his family and loved us immensely despite an often strict teaching style. While I will not miss the arguments, I will certainly always wish that he were still alive; he would enjoy knowing that he and my mom raised successful boys who will certainly go on to influence this world for the better.
Remarks by the Congress of the United States of America
2005_CongressionalRecordJimMizell
Remarks by the Santa Margarita Water District
smwd.02 24 05 mizell article